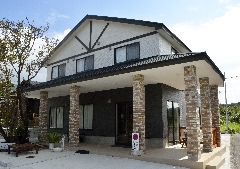 Main building(Non-smoking room)
◆【Period limited】
  Lodge Ocean's all Plan have a service Japanese style Breakfast.
Common Space
◆Dining room
◆Kitchen (Gus stove,Microwave,Item for cooking)
◆ice maker
◆landry machine, landry soap, Drying space
◆Parking lot
* When booking the Annex, should be use the common rest room, bath and shower.(separated by genders)
◆9 Privileges
1)Pick-up serveice from/to Air port & Ferry terminal(In advance,shoud be booking)
2)There is free parking lot
3)There is free Wi-fi
4)There is free common PC
5)Our Lodge is vicinity of the center city. Also possible to go to a beach in 5 min   on foot
6)When arrival before chack-in time,the guest can leave a baggage in Lodge.
7)There is Washing space& Drying space for Sucba Diving,surfin and fishing.
8)There is Booking service for rent-a-car.Minicar¥5500/day
9)There is free rental of the snorkeling set(only 1 day) during the stay.(Summer
season only)
If have a question,please call (+81)04996-2-0164 or 04996-2-0164
*Click to Enlarge.